If you have ever left your vehicle outside during a hail storm you probably are aware of the damage it can cause. Hail is created when rain can not escape the updraft caused by the thunderstorm.
If there is a really low level thunderstorm pulling air in from around the region that air will be sucked up into the "center" of the thunderstorm causing the classic 'anvil' telling you the direction the thunderstorm is traveling in. Unfortunately for the rain trying to fall, the updraft makes escape impossible and the rain travels with the updraft until it is too heavy to be carried and it starts to fall again.
This process repeats until the rain is frozen and heavier then the total amount of force created by the updraft. Think of it this way, if you have access to a shop vacuum with a reverse switch which blows rather then sucks. When in the blowing configuration it is difficult to get your hand pushed up against the vacuum hose until you apply more force then the vacuum puts out. Same with the rain, or at this point Hail.
The largest hail ever recorded came down during a thunderstorm in 1970 in the state of Kansas. The hail rock weighted in at 1.67 pounds and was 5.67 inches around. Luckily it did not it anyone when it landed.
But hail does cause damage, I have never driven or flown through a hail storm, but some people have and thank fully lived through it. A Canada Air flight traveling at 35,000 feet was attacked by tennis ball sized hail on the tenth day of august 2006 and the end result is rather traumatizing.
Here we are looking at the left engine intake. Notice the damage caused around the rim.
Here we are looking at the right wing leading edge. The part of the wing most responsible for creating the lift that keep the aircraft flying. The Landing Light is destroyed and the leading edge has pot marks all over it.
As if that wasn't bad enough, here is an image showing the nose cone and pilots cockpit windows. The nose is gone, so is their radar. You will also notice that the Co-pilots window is cracked and probably pretty difficult to see out of. We can not see the pilots window, but I'd suspect it is in a similar shape.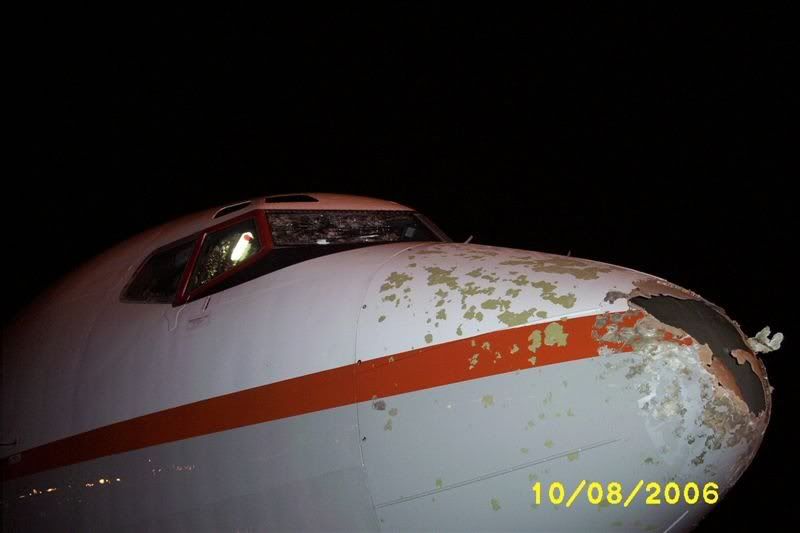 Then here is a head on shot of the aircraft.